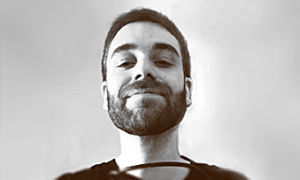 Dopo la laurea in Lettere Moderne frequenta corsi di specializzazione professionale in Animazione tradizionale e Animazione 3D. Dal 2008 lavora nei settori della grafica pubblicitaria e della comunicazione come freelance per diverse case editrici, enti e aziende attive nel settore del real estate, della moda e della ricerca e divulgazione scientifica (Edison, Cult, Barbés, DLTM, Res Comunicazione). Formatore dal 2008 in ambito scolastico (UNAR, Ce.S.Vo.T, Amnesty International Sezione Italiana), segue lo sviluppo di progetti ministeriali e locali sull'educazione alle differenze e sulla riduzione di fenomeni di esclusione attraverso attività visive e di educazione all'immagine.
Nel 2012 fonda Steam Factory Creative Team, un gruppo di artisti impegnati nell'ambito della formazione, e nella produzione grafica in ambito videoludico. Dal 2012 continua la formazione ed esperienza professionale negli ambiti della concept art e del design di personaggi e background (ETT Solutions, Play for Inclusion, Mediacross, Immerxive) per la produzione di videogame, collaborando con aziende nel settore pubblico e privato in sviluppi di gamification e serious games.
Dal 2015 ad oggi lavora e vive a Firenze occupandosi prevalentemente di formazione (Scuola Internazionale di Comics, The Sign Comics & Arts Academy, Event Horizon School of Digital Art), advertising e art direction per la produzione di videogame in pubblicazione e in via di sviluppo (Animago, Achtoon, IVProduction, Amnesty International).