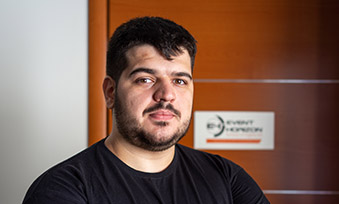 Oggi docente del corso di programmazione videogiochi, studia Informatica presso l'Università Torino. Nel 2015 Andrea Alicino si iscrive al corso di Game Programmer presso la Event Horizon School, da cui esce specializzandosi in database, online programming e netcode optimization. Inizia il suo percorso di programmazione videogiochi con la collaborazione con 34BigThings poco dopo, e viene inserito come Network & Gameplay Programmer nell'ambizioso progetto TITANS: Dawn of Tribes, di Event Horizon Studios.
GIOCHI PUBBLICATI:
TITANS: Dawn of Tribes
by Event Horizon Studios / 34BigThings,
Steam Early Access, 2017. Epic Survival in un mondo primordiale dominato da Titani.
Game Programmer.